GIVEBACK INITIATIVES
Happiness doesn't come from what we get, but from what we give.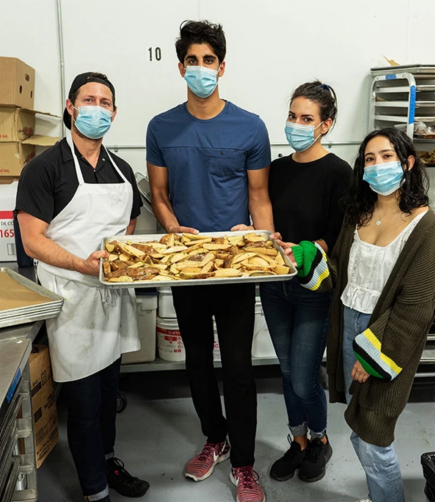 UPDATES
March 25, 2021
No Days Wasted® has committed to donating over $5,000 (and counting) to small businesses so far this March! Small businesses, specifically the service industry (restaurants/bars), are a big part of our WHY. These are important places where we can gather with friends, family and those we care about to celebrate moments, share experiences and create memories. Our goal is to help, so these places can be open as restrictions ease up.
We started our giveback initiatives last April when the pandemic first hit, by offering our community the opportunity to purchase our products with proceeds being donated to those hit hard by COVID and the challenges it presented. This included over 6000 meals being donated through Cause We Care Foundation, Vancouver Food Runners and Food Stash Foundation to single-parent families.
With that said, our March giveback initiative is still going strong, and if you like to maximize life's moments, then our products are for you and you'll be giving back to a good cause!
- Nishal Kumar, CEO
March 1, 2021
This month we're donating a portion of all website sales to the bar and restaurant industry. We're doing this because we gather and create memories in social setting such as restaurants and bars over dinner and drinks with friends, and these businesses have been hit the hardest by COVID. We're teaming up with our amazing community to give back!
10% of all website sales in March will go towards this community giveback. Join us in supporting small businesses!
Stay tuned for more updates.
- Nishal Kumar, CEO
July 30, 2020
We're happy to partner with Spittin' Chiclets and make a $10,000 donation to the ECHL Players Relief Fund. This fund was created to assist players and families who are suffering financial hardships because of the abrupt cancellation of the ECHL season due to COVID-19.
June 10, 2020
Our team was able to get out and help prepare and deliver meals in partnership with Vancouver Food Runners, YVR Prep and Food Stash Foundation. It was an incredibly fun and humbling experience to be able to contribute our time as well. We were able to deliver 200 meals to the YWCA that day, with 100 meals going out per day through our partners. A special thank you again to our amazing customers who have made these donations possible!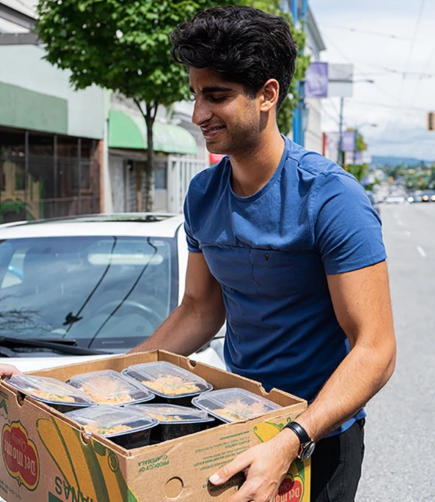 May 28, 2020
More meal donations went out yesterday! Our team is so grateful to be able to donate another batch of meals to single parent families on your behalf. Thanks to Nightingale Restaurant for cooking these delicious, healthy meals and thank you to Cause We Care Foundation for facilitating these donations. It's been so great to partner with these two amazing groups so we could get food out to feed 400 more people!
A special thank you to our customers, the No Days Wasted Family – without your orders we wouldn't be able to do this. This has been a complete team eort and we wouldn't be here without you! Moving forward, more meal donations will be going out everyday for the next 3 weeks.
Thank you so much, Nishal & The No Days Wasted Team
May 20, 2020
On May 4, we launched an initiative to support single-parent families impacted by COVID-19. We're grateful to have partnered with Cause We Care Foundation to help facilitate the donations and Nightingale restaurant to prepare these amazing meals to donate to single mothers in Vancouver, Canada. Yesterday, we donated our first round of meals that we were able to purchase on your behalf, the No Days Wasted Family, using the proceeds from your orders. We sent out 100 meals (enough food to feed 100 families/400 people). These were delicious, healthy meals (BBQ chicken, baked potatoes, salad and a cookie for dessert) that mothers in second stage transition houses were able to enjoy with their children.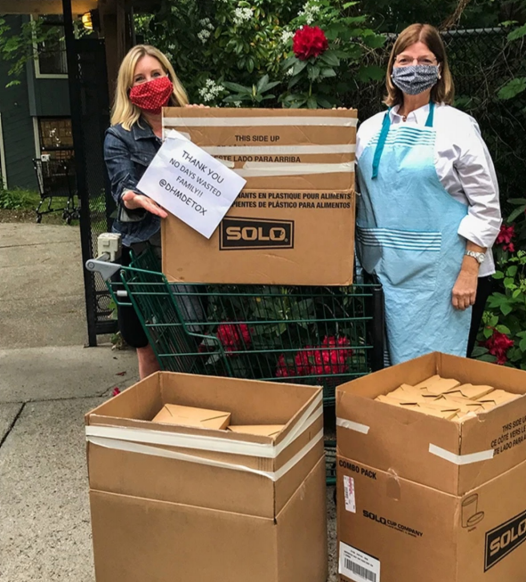 Meal donations will continue next week through your donations, and the donations will continue for the duration of the initiative. We sincerely appreciate all the love and support, and we're incredibly happy to have been able to make these donations and continue to do so over the next few weeks! We're all in this together!
Sincerely, Nishal & The No Days Wasted Team
SUPPORTING FAMILIES IN NEED
Ended May 29, 2020
Choose a discount (up to 30% o) & donate meals to single-parent families. We're teaming up with our community to combine your purchase with meal donations that will go directly to single-parent families impacted by COVID-19. Unfortunately, lots of people have lost jobs and can't provide food for their families, so we're doing our part to help with the assistance of our amazing customers, the No Days Wasted Family. We'll be providing updates along the way via our instagram page @dhmdetox. *Risk free purchases do not apply during this initiative.
PREVIOUS INITIATIVES
Supporting the Healthcare Community
April 20, 2020 Update:
With the conclusion of the campaign last week, we are proud to announce that we have raised 12,000 surgical masks using prots from our orders. We're very grateful for the support from our community, aka the No Days Wasted Family. You did it! You, our amazing customers, were the key part of this initiative and we're happy to make this donation on your behalf
Next steps: we're in the process of ordering masks and deploying them to frontline healthcare workers in the most ecient way possible. We'll have further updates on this as they become available.
Thank you so much, we're all in this together!
- Nishal Kumar, CEO
April 13, 2020 Update:
One week ago, we decided to team up with our community with the Pay What You Want Campaign to donate all profits to purchase masks for healthcare workers in USA and Canada. There is a significant shortage of personal protective equipment (PPE) for those on the front lines, and we're trying to do everything we can to help. So far, we've raised over 7,000 masks for front line workers! We are so grateful for your response to our initiative and with our ongoing support we look forward to growing our donations together
We've decided to launch Pay What You Want and Donate to help support healthcare professionals working on the front lines. We're teaming up with our community to combine your purchase with mask donations that will go directly to those that need them most. All profits from this campaign will go towards providing mask donations. *Risk free purchases do not apply during this initiative.
FAQ
How will you decide who you will be donating the masks to?
We're taking the advice of healthcare distribution groups and governing bodies to ensure the masks go to where they are needed the most. Donations will be made within USA and Canada.
What type of masks are you donating and why?
We will be donating FDA approved 3 ply surgical masks. These masks are essential protective equipment used by all front line workers and many healthcare professionals are experiencing a shortage. This is the most immediate way we're able to make an impact.
Will you be profiting from this campaign?
No, we are taking all profits from this campaign and purchasing masks directly, with no mark up. We'll then ensure that those masks arrive in the hands of those that need them most. Updates will be provided along the way!